Contact Young Company
Contact Young Company (CYC) is Contact's renowned, award-winning young ensemble.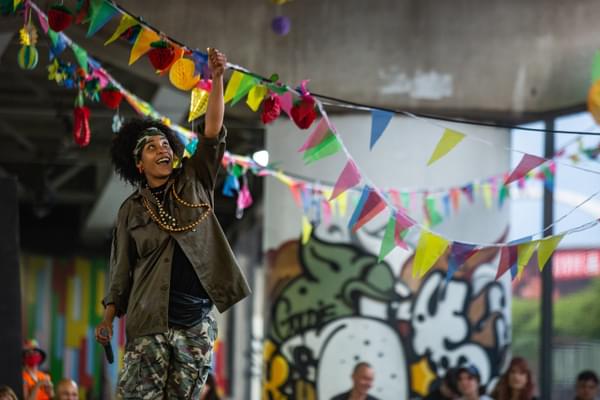 CYC is made up of young performers, actors, dancers, musicians, stand-up comedians, poets and MCs.
Each year, Contact Young Company works with major national and international artists to create brand-new theatre shows.
These shows are premiered here at Contact and have often toured venues and festivals across the country.

'Contact Young Company continues to set a precedent for what can be done when young performers are treated as professionals.'

The Stage
---
'CYC has opened up so many incredible opportunities that I wouldn't have ever dreamed about a year ago.'

Terri, CYC Member
CYC ALUMNI
Many previous members of CYC have gone on to become professional artists, performers and creators.
Previous CYC-ers include: Louise Wallwein, Yusra Warsama, Darren Pritchard, Lemm Sissay, Afreena Islam, Fisayo Akinade, Abdus Salam, Sophie Willan, Nathaniel Hall, Lowri Evans (Eggs Collective), Sara Cocker (Eggs Collective), Kyle Walker, Lauren Fitzpatrick, Haiesha Mistry, Rachel Brogan, Ali Gadema, Chunky, Amy Vreeke and Adam Ali.

---
BE A PART OF CYC
Fancy joining CYC?
CYC is for young performers, actors, dancers, musicians, stand-up comedians, poets and MCs aged 15 - 25.
Previously, CYC has worked with acclaimed companies like Gob Squad, Forced Entertainment, Hetain Patel, Stacy Makishi and Slung Low.
We are not currently auditioning for the company but if you'd like to find out about opportunities to join, please complete the form on this page.

And, keep your eyes peeled for our CYC shows, twice a year at Contact in our Autumn and Summer seasons.
Previous CYC Shows