The Agency
Young people leading change in their communities.
Welcome to The Agency Manchester, run by Contact since 2013. Every year we run programmes aimed at empowering young people to become creative leaders and change-makers in their communities.
The Agency is a creative entrepreneurship programme enabling young people aged 15 to 25 from some of the most underserved areas in the UK to generate social change projects based on the needs they identify in their own communities.
---
HOW DO WE USUALLY RECRUIT?
We provide young people (or Agents) with the professional training, support and advice they need to generate new innovative ideas.
Agents pitch their ideas to an expert panel that decides which projects will be receiving seed funding of £2,000 and additional support, helping their ideas grow and reach bigger audiences.
Over the past 5 years over 266 young people have taken part in The Agency with projects receiving £178,547 in funding.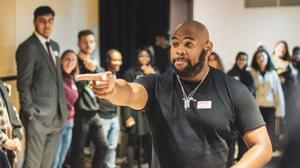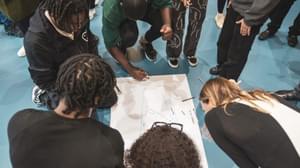 'The Agency has given me the chance to be in a positive environment, it has helped me to have hope, and to see that there is another page to life, another perspective.'

Farhad, The Agency
---
HOUSES OF PARLIAMENT

In 2019, Agency participants from Manchester and London presented to politicians and policy-makers at the Houses of Parliament, speaking about their projects and the impact of the programme on their communities. The project was also the focus of a major Guardian article: Knives, gangs and kids: how to break the cycle.
MANCHESTER AGENCY PROJECTS PAST AND PRESENT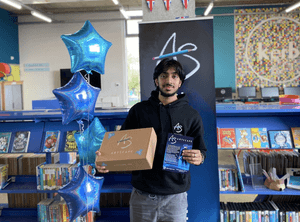 Artscape by Sufyaan
Artscape identified the importance of art and the mental health benefits it provides, but also the cost to access art materials outside of school. Launching with a workshop on how to use the materials, Sufyaan created luxury art packs that are available to young people for free and can be collected from key places around Moston and Harpurhey.
Food for All by Eliah
Food for all looked at the increased usage of food banks in the area with the cost of living crisis. Eliah developed recipe cards that celebrate and consider a variety of cultures for food bank users using ingredients typically donated. These recipe cards and food packages with all the ingredients to make the meals were donated to local food banks.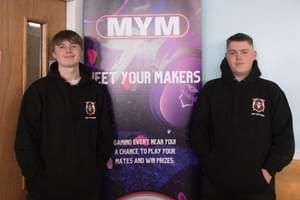 Meet Your Makers by Nathan + Blake
Meet Your Makers is an e-gaming tournament to support mental health and allow young people in the territory to practice and play video games they may not have access to at home. Creating a gaming community in the real world.
Image gallery
The Agency National Gathering 2022 by Victor Oderinde – OVO Gallery
Image gallery
The Agency Manchester Community Day 2022 by Victor Oderinde – OVO Gallery