About Big Banquet: Supper Club
What would a Big Banquet be without a feast?!
Before you fill up on culture, secure your spot at our Supper Club, hosted by the outstanding ARMR Cafe and Kitchen who have been cooking up some serious grub.
Experience an intimate Caribbean supper and a good old-fashioned knees-up at the castle on Oxford Road, with a free drink on arrival!
And, enjoy an immersive fashion show by the brilliant Contact Young Company following their performance of Hand Me Down; dinner and a show, who could say no?!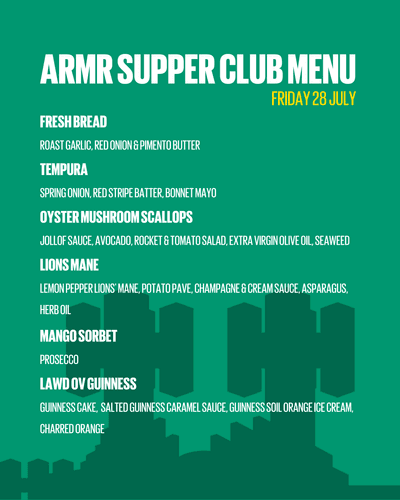 The Big Banquet
Every day is a party at Contact. But, this summer, we're bringing you something extra special.
From 28 - 29 of July, we're lowering the drawbridge and throwing open the castle doors for a weekend full of festivities!
"For 50 years, Contact has proven what can be achieved by putting the future first. I'm so excited to mark this remarkable legacy with The Big Banquet and can't wait to share the beautiful Contact energy with our audiences, artists, visitors, friends and family over one incredible weekend. After a year at the helm of this magnificent organisation, I know one thing for sure: there's nowhere in the world like Contact" - Keisha Thompson, Contact's AD and CEO
Join us in the castle on Oxford Road as we wrap up our 50th birthday celebrations with The Big Banquet, and feast on a range of extraordinary cultural delights.
From morning raves to poetry slams and fashion shows, we can't wait to celebrate 50 years of changing the face of UK culture with you.

Access and Content Warnings
If you have any access needs you want to discuss with us, please call the box office Tuesday to Friday between 12pm – 10pm on 0161 274 0600.

Alternatively, you can email the box office on boxoffice@contactmcr.com, or get in touch via direct message on Twitter, Facebook or Instagram (@contactmcr on all three platforms).
There are no content warnings for this event.
You might also like …
14%:

Hometown

Pride

&

Identity

A free creative workshop exploring identity, pride and connection to home, led by Bronte Appleby.

Workshop

14%:

National

Anthems

At the top of any match, footballers and fans often sing (or do not sing) their national anthems.

Workshop