Summer 23 at Contact: Inspiration, Education and New Creations
News
26 Apr 2023
News Story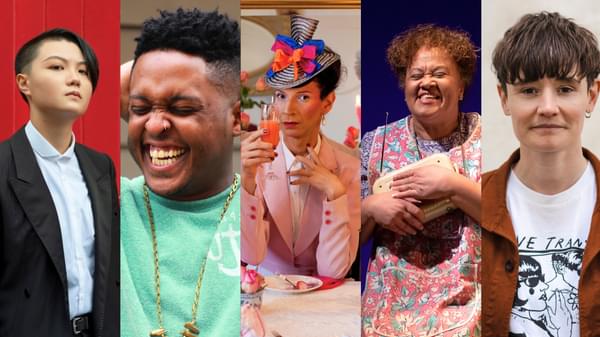 Is that the sun shining, or are we just imagining it?! Either way, we're here to inject some brightness into your life with our first wave of summer events to get stuck into at Contact.
From fresh new work to summer schools and internationally renowned artists, we've got something for everyone in our castle of curiosity.
Delve into some highlights below!
STARS: AN AFROFUTURIST SPACE ODYSSEY | 9 – 11 MAY
Told through one woman and a live DJ, with projected animation and captions, STARS – a Tamasha and Institute of Contemporary Arts (ICA) co-production – is a moving and joyful, sensitive yet funny, Afrofuturist odyssey accessible for all.

WORD OF WARNING AND CONTACT: WORKS AHEAD | 18 – 19 MAY
Our annual sampler evening of new performance returns to Contact with a trio of new works-in-development from artists Christian Asare, Jade Williams, Kellie Colbert — searching for identity on the tightrope of our histories, amidst the isolation of our immediate pasts and within the armour of our presents.

SEXUALITY SUMMER SCHOOL: TRANSMISSION | 23 MAY
Nando Messias invites you into their Narnian closet, a trans archive of exquisite ephemera, poignant stories and bodily wonders. In an endlessly layered solo performance, Nando discloses an extraordinary personal archive: a reliquary of sumptuous costumes, imperious fabulosity, unsterilised physicality and of course the trademark, legendary poignancy.

SEXUALITY SUMMER SCHOOL: (UP) AGAINST NATURE | 25 MAY
Experience a screening of two filmed performances, one by Whiskey Chow, a performance artist and Chinese drag king, and the other by Ro Roberston, who explores the terrain of the Queer body, straddling sculpture, drawing, and performance for camera. Each artist will be present and will respond to their own work with a spoken piece, and the event will end with a dialogue between the artists and an audience Q&A, chaired by Jackie Stacey from the University of Manchester's Sexuality Summer School.
DR HELEN CZERSKI: BLUE MACHINE: HOW THE OCEAN SHAPES OUR WORLD | 16 JUNE
Join us for the official homecoming launch event for Blue Machine, Dr Helen Czerski's exploration of the "ocean engine"—the physics behind the ocean's systems—and why it matters. Born and raised in Manchester, this event is the official homecoming launch event for Blue Machine and is presented by The Cosmic Shambles Network.

MIF AND CONTACT: 50 HOURS OF FREEDOM | 14 JULY
In celebration of International Non-Binary People's Day on 14 July, Contact and Manchester International Festival are bringing together three local, non-binary artists to create a new piece of work – and you're invited to the sharing! Following the performance of their new piece, audiences will experience a live reading from internationally renowned artist Danez Smith.

CLORE LEADERSHIP: EMERGING FUTURES | 18 JULY
How can you be a caring leader, for others and yourself? Join us this July as Emerging Futures returns for its third year exploring the themes around care in leadership and care towards others.
Presented by Clore Leadership in partnership with Contact, the Emerging Futures Conference is a chance for early-career creative changemakers to come together, to be inspired, think and create meaningful change within their work.

You might also like...
Sofie

Hagen:

Will

I

Ever

Have

Sex

Again?

Sofie Hagen is bringing her brand new stand-up show and her brand new book on tour.