Introducing 'The Pinch' Ticket
News
26 Apr 2023
News Story
Read all about our new The Pinch ticket scheme from Artistic Director and CEO of Contact, Keisha Thompson.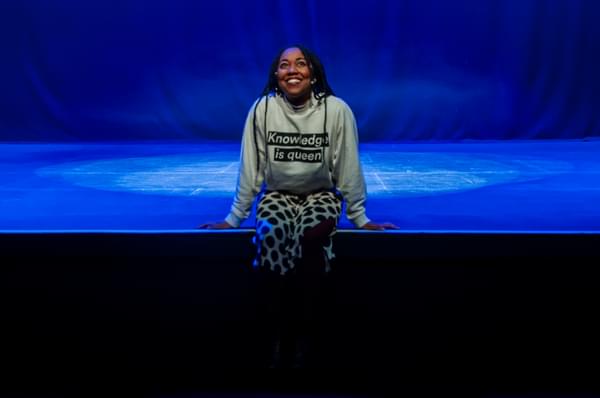 Times are hard.
They are getting harder.
Despite that, we know that art will prevail.
Most recently, we have seen with the waves of global disruption that many of us will turn to arts and culture to help us process the world or escape from it. It is our duty at Contact to make sure that people from all walks of life have the ability to do that even when they are feeling The Pinch.

We're proud to say that our audiences are some of the youngest and most varied in the city. Many of the people that engage with us as audience members and participants live very flexible lives and we want to be responsive to that. Freelancers, artists, young people – are all very likely to be in working situations which means they do not have a steady income. Some months, the money is rolling in. Other months, it isn't. Our pricing model should match that.
---
What does the word "unwaged" or "low income" mean to an actor who is in between auditions? What does the word mean to someone who has just left college and is figuring out their next step? Mainly, why is it any of our chuffing business? Unless, you want support! Then we're all ears! But in the grand scheme of things, we believe that being in limbo shouldn't stop you from experiencing our programme of shows and activities. So, if you find something that you'd like to experience at Contact but you know it's a hard period, we will always make sure there is a ticket price available for anyone who is feeling The Pinch.
Some people may wonder why we are not choosing to give away free tickets. 1) Our membership scheme, does just that! Read more about it here. 2) It is important to us that we make sure the arts are valued. It costs money to make artistic work and arts and culture do a lot in terms of giving back to the economy. But on more basic terms, we know that psychologically, when something is free, we are less likely to value it. That is not a message that we want to uphold.
The Pinch tickets will be listed with all other concessions on our website for anyone who feels they need it, no catches, no proof needed just if you're feeling The Pinch you're welcome to one!
At Contact, we are constantly bowled over by the love and support we receive from people. Many people will do what they can to push us to better. Some of those people are able to show this support via donations for which we are always thankful.
Contact has an open culture. We're not about status. As much as we can all experience bad months, we can all experience good months. Those times, when you might treat yourself to an extra shot in your coffee or your cocktail or get your cat's face printed on a pair of socks. As said before, it's none of our business what you do with your money. But if you feel like you are in a position where you could shove (or Push…) some money our way that will help us to engage with more audiences, artists and young people then that'd be great! More info on how you can donate here.
---
The poet in me was looking for a lovely phrase that could help to sum this all up. I always think it is a good idea to start with something that already exists. I like to find old sayings, give them a shake and see what falls out. I recently looked into a "A pinch and a punch for the first of the month." And apparently, it was something to do with George Washington offering salty beverages to indigenous people – time for a remix methinks!
In this context, there are a few things to change. We'll get rid of "punch" for its connotations of violence and old American history. This also means we have to get rid of "month". For sake of rhyme. Fine! Since as we know, some of us get paid weekly and for others, it's when we remember to submit our invoices – eek!
How does this sound:
It doesn't matter if you want to pinch or to push, you will always be welcome to enjoy art with us?
Go on, you know you like it.
To book your The Pinch ticket, simply proceed to check out at any event of your choice and input the number of tickets required into the 'The Pinch' field. For any queries, reach out to our wonderful Box Office team at boxoffice@contactmcr.com
You might also like …
Budding

–

In collaboration with the University of Manchester Drama and Film, Contact is proud to present BUDDING, an evening of new works-in-progress. Catch these exciting pieces of theatre and performance from emerging artists as they start to…