Contact announces stellar line up of its first Patrons
News
23 Jun 2023
News Story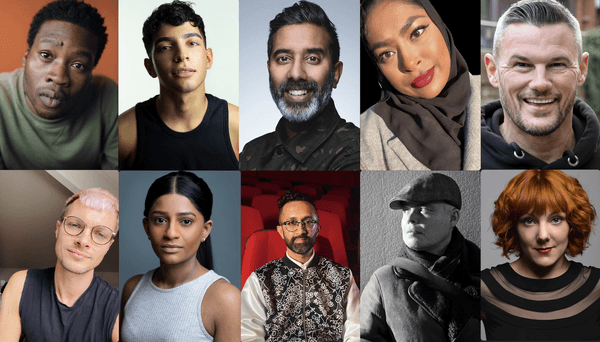 Contact in Manchester is celebrating the arrival of ten, newly appointed Patrons for the first time in its 50-year history.
Ranging from past members of Contact Young Company, actors, artists, and filmmakers to a previous mayor of Manchester. These Patrons are from or have lived and worked in Manchester and Contact has touched their lives and inspired their careers in some way.
"Contact is more than an arts venue. It's a home and a community where new artists and young people are listened to, nurtured and expertly developed in a way that no other venue does."

Sophie Willan
Contact is a vibrant multidisciplinary arts venue in Manchester, recognised nationally and internationally as a game-changer in the field of youth leadership and creativity. It was founded in 1971 as part of the University of Manchester.

"I'm over the moon to be a new patron for Contact. Its wonder-inducing turrets enticed me to join the young company 15 years ago and I've never looked back. It's a space that has shaped me, inspired me, taught me, nurtured me.''

Nathaniel Hall
Known for producing the stars of the future and the next generation of talent in all creative fields, Contact is now being backed by these new Patrons, ten established creatives whose careers are all connected to Contact.
Contact's vision and infrastructure support and enable young people to turn the seed of an idea into something spectacular. This new and stellar group of Patrons helps to further strengthen contact's support network and continue its mission.

"Contact Theatre has been instrumental in the career I have today. It provides a space where young people can develop and hone their skills in acting, writing, directing, poetry, and dance. A place where you meet with people from all walks of life hear stories and try and fail without judgement.''

Fisayo Akinade
Louise Wallwein said: "I exploded into my first workshop. I was a volatile child and I had just left the care system. The world was afire with homophobia and youth unemployment. Contact became the place where I could test out my politics and learn to express them through Poetry and Theatre. It threw me a lifeline, and at the same time taught me how to be a collaborator. Contact was the first place I could just be Me."

Carl Austin-Behan said: "There is so much young talent in the North West and I'm proud to support Contact as a place that celebrates and represents the identities and diversity across the whole cultural spectrum, creating opportunities for everyone."
Keisha Thompson, Artistic Director and CEO of Contact said: "Having these new Patrons announced in our 50th year is a joy for the whole team at Contact. We know that they will contribute as trailblazing individuals with a passion for supporting and drawing attention to our creatives through Contact's programmes, outreach and shows. We are grateful to all of the Patrons for their time, passion and energy."
Jane Hall, Development Manager said "We wanted to bring closer the incredible people who have historical links with Contact, and we wanted it to be genuine. Everyone we approached could justify why they've been asked and have their own experiences of engaging with Contact. As a team, we knew the 'ask' had to be something different and creative. So we created a wish list of involvement that ranged from mentoring our participants, hosting dinners for potential funders to running workshops with our Young Company or having a cocktail named after them at the bar, as well as the usual activity you would expect like attending opening nights."

Coming up at Contact this summer is an 'In Conversation' with Carl Austin-Behan OBE and Nathaniel J Hall, Lunchtime Lectures and the 50th birthday celebration 'Big Banquet'.