Commission Announcement: Contact Commission Census by Malandra Jacks
News
5 May 2023
News Story
Contact are delighted to be supporting the first full-length production by the uber talented duo Malandra Jacks.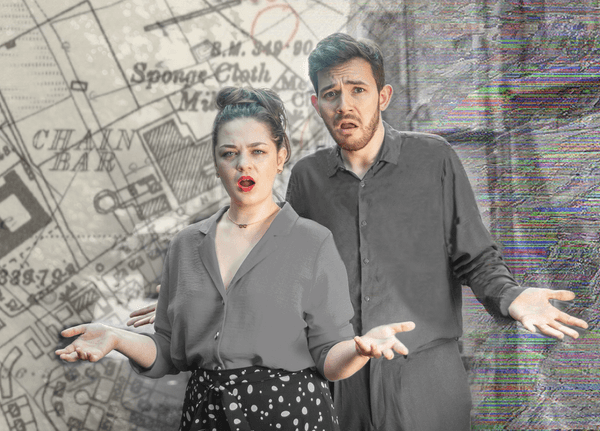 Supporting the company is extra special to Contact, as Chloe and Josh (Malandra Jacks), have a history of developing at Contact- starting their journey with us as participants in projects such as CYC (Contact Young Company), The Agency and Sharing The Stage.

Contact, along with hÅb, will work with Malandra Jacks to create a digital led theatre show, which celebrates their North Manchester heritage, is brimming with Moston spirit, and asks questions over what class means today.

In their creative team, Malandra Jacks are joined by Kate Bradham (director and dramaturg), Andrew Crofts (Technical consultant), Faz Barber (Set Designer), Greg Harper (Composer), and Roxy Daykin-Moores (Producer).

Contact are joined by hÅb as commissioners of the work, and the project is supported by public funding by the National Lottery through Arts Council England.
"To create a sense of belonging through art and culture you need to turn community into a verb. I've been lucky enough to work alongside Chloe and Josh and witness how they do this - it's absolute magic"

Dr Harriet Rowley, Senior Lecturer in Education and Community at Manchester Metropolitan University
About Census
Using our rich history steeped in Mostonian charisma & wit, Malandra Jacks will celebrate our North Manchester community, lacing personal & community voices with spellbinding projection mapping to unpick the inherent complexity of working class identity in 2023. Census, a communally generated history of Moston (a so- called 'shit hole') in transition, using a deep embedded rapport to celebrate our diverse community.

Malandra Jacks are proud to be a working class creative company embedded & regarded in our local North Manchester community. Our long-founded knowledge & strong practitioner skills, uniquely positions us to be at the helm of co-creation; to ensure artistic integrity & community access at heart. As creatives we have worked extensively in the North Manchester area, as community practitioners, in an authentic & considered way.

With the Cost Of Living crisis ever looming & local services shrinking, 2023 is a crucial period to deliver Census. The project will present a powerful mix of our own autobiographical material; alongside the rich lived experience of community members, to allow for local pride & ignite conversation.

"In the current political climate, Census is ever more relevant – a snapshot of a working class community in transition and a representation of all the underprivileged communities out there – as such Census will serve both as a document to the local history but also as a call to arms for other such communities to celebrate their heritage"

Tamsin Drury, hÅb
Q&A with Chloe and Josh (MALANDRA JACKS)
WHY DID YOU WANT TO MAKE CENSUS?
We were first asked at the age of 15 'who was the primary breadwinner in your household when you were 14'. Perplexed by what the question was actually asking we began to unravel our own working class identities. What does working class mean? Am I working class and if so what makes me working class? Does any of it matter and who does it matter to? These are just some of the questions that made us want to make census. Moston has always been a working class area and it's interesting how its history and the doings of past Mostonians have made the area what it is today. Using parallels from the past to inform the present we will be using all of our research and voices from our community to answer some of these questions. We work very closely with our community so it only makes sense to create our first full scale piece of theatre with and for them to celebrate and champion the good, because there is a lot of it.
WHAT HAS BEEN ITS CREATIVE JOURNEY SO FAR?
We have been working on the project for the last few years building research and growing the idea since 2020 so to be able to announce the show is very exciting. We completed an R&D for the show last year which included research sessions in the community with residents, local historians and academics as well as commissioning three local artists to create a poem, a song and a painting that responded to the material we found. We held a community sharing event in March 2021 which acted as a live mood board for the show, it was very well received by the community and showed us exactly the kind of show Census was going to be. We then began to build our creative team and got started with putting together our application to bring the show to stage. Census will be the largest scale piece of work we have done to date and we can't wait to share it with our community and the world.
"WITH INNOVATIVE CREATIVE PROJECTS, THEY ACT AS A CATALYST FOR COMMUNITY COHESION IN A VERY SENSITIVE AND COMPLEX AREA OF NORTH MANCHESTER"

B. Carter, Neighbourhood Officer
BIOS
Lead Artists Chloe & Josh form Malandra Jacks. Formed in 2017, Malandra Jacks are a theatre and creative company from North Manchester.
Malandra Jacks use theatre and digital arts to tell stories and amplify community voices. Their work is led by their passion for people and creativity. Malandra Jacks are skilled performers, theatre makers, videographers, installation makers and community practitioners and have worked with organisations such as Manchester International Festival; HOME; Contact; Manchester City Council; Bolton Octagon; Gallery Oldham and The Royal Exchange.
Their recent theatre work includes: A City Beneath a City: A theatre piece using oral history, physical theatre, and digital work to commemorate and celebrate the history of Bradford pit, Manchester for Manchester City Council. Arty Farty (MIF): which playfully and honestly asked its audience, what are the arts for you? Do you and your community need arts or even want them? And with sister company Modify, created a mini documentary Around Here, which premiered at Moston Miners Cinema, and explored the negative perceptions of Moston, perpetuated in a Channel 4 documentary People Like Us.
Josh Wilkinson is a Manchester-based performer, presenter and film/theatre maker. He is the founder of leading film and digital production company; Modify Productions and co-founder of Malandra Jacks. Josh also hosts an online chat show; CHATTIN, interviewing creatives and working with arts organisations and charities with young people at the centre. He is recognised across the creative industries for his work in creative education and working-class storytelling.
Chloe Malandra is a multidisciplinary freelance Artist and co-founder of Malandra Jacks. Chloe makes theatre, film and installations, working on small and large scale projects across the uk and internationally. She uses digital storytelling across her work to amplify the voices of the communities and young people she works with. As a performer Chloe uses mixed theatre practices such as physical theatre, vocal work, comedy, clowning techniques & devised methods to create socially charged, issue based theatre. She has performed with theatre companies such as Contact, Slug Low, Ockham's Razor and has toured shows in schools, arts venues & theatres with Malandra Jacks.
"FUN TO WORK WITH. I CAN'T RECOMMEND THEM ENOUGH AS DIVISORS AND THEATRE MAKERS. AN OUTSTANDING PAIR!"

Alan Lane Artistic Director, Slung Low
You might also like …
Budding

–

In collaboration with the University of Manchester Drama and Film, Contact is proud to present BUDDING, an evening of new works-in-progress. Catch these exciting pieces of theatre and performance from emerging artists as they start to…