Arlo Parks presents The Magic Border
About Arlo Parks presents The Magic Border
Hosted by Liv Little
'Writing poetry, to me, is about wading into the saltwater of your own body, capillaries bursting, eyes brimming, unmoored.'
Manchester Literature Festival is thrilled to present a special event with singer, songwriter and poet Arlo Parks. Following a Mercury Music Prize and Grammy nominations for her debut album, Collapsed in Sunbeams, and a second critically acclaimed album, My Soft Machine, Arlo brings us a taste of the poetry she's quietly been writing for years.

In The Magic Border, Arlo shares twenty original poems, song lyrics and intimate images from collaborator, photographer Daniyel Lowden, offering rare insight into her creative process.
Join us to see Arlo read poems from The Magic Border and discuss her poetry, creativity and the way she explores and incorporates the queer experience, blackness, grief and love through her sublime work with host Liv Little. The founder of gal-dem, Liv is a writer and broadcaster whose work spans journalism, audio, TV and curatorial projects. Her debut novel Rosewater was published by Dialogue Books earlier this year. Bernardine Evaristo describes Liv as "a wonderfully fresh, zesty and sexy debut novelist who is putting black queer lives, loves and longings centre stage where they belong".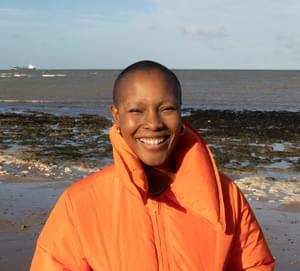 Access and Content Warnings
If you have any access needs you want to discuss with us, please call the box office Tuesday to Friday between 12pm – 10pm on 0161 274 0600.

Alternatively, you can email the box office on boxoffice@contactmcr.com, or get in touch via direct message on Twitter, Facebook or Instagram (@contactmcr on all three platforms).
Arlo will be performing her poems and discussing her work. The Magic Border explores the queer experience, blackness, grief, trauma and love and the conversation may touch on these themes alongside mental health and creativity.
Credits and Partners
Presented by Manchester Literature Festival in partnership with Contact and 4th Estate Books.

Manchester Literature Festival is a celebration of imagination, ideas, stories, and voices from around the world. It is part of Manchester's rich cultural tapestry and is committed to bringing together the most exciting storytellers, poets, and thinkers for everyone to enjoy.
Don't Miss...
An

Evening

with

Linton

Kwesi

Johnson

Experience a special event with pioneering Jamaican reggae poet, performer, activist and critic, Linton Kwesi Johnson, hosted by Jackie Kay.

Max

Porter

presents

Shy

"Max Porter has a way of writing unlike anyone else. I loved Shy. I finished it elated and tearful, joyful and terrified, changed by the journey. It moved and surprised me and that is what I look for in my favourite artists." – PJ…