Funder in Focus: Transport for Greater Manchester (TfGM)
In 2021, Contact received an Active Travel Grant from TfGM to improve our facilities for cyclists and contribute to the city's environmental ambitions.
Image gallery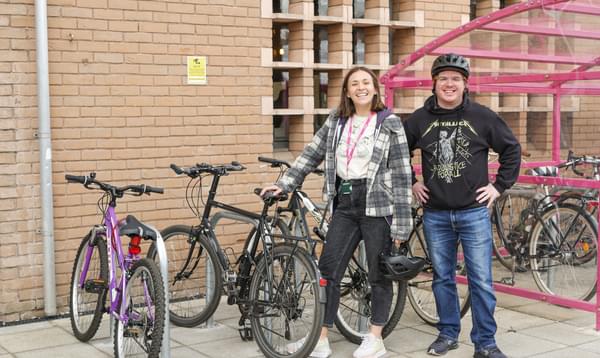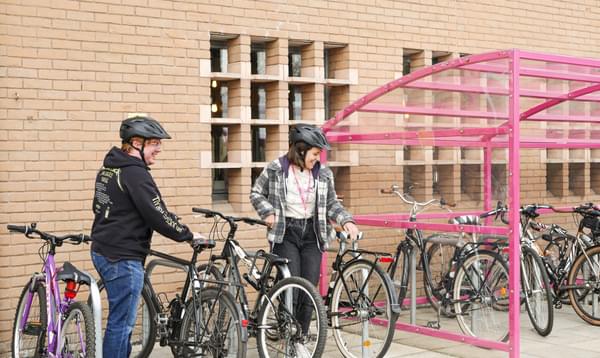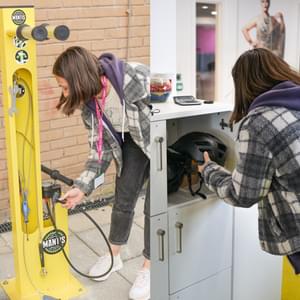 Contact has a long-established environmental perspective. In the 1990s our iconic chimneys were added, creating a unique and fully naturally ventilated building. In 2021 Contact reopened following a major sustainability-focused building redevelopment with a prominent aim of using our new and improved spaces and public platform to get our audiences, participants and local communities on board with our environmental values and city-wide environmental initiatives.

The building project used sustainable materials, enabled the installation of a more insightful Building Management System (BMS), LED lighting and expanded our natural ventilation system into the new extension.
We commissioned a film by the brilliant Modify Productions explaining how that works – check out our Sustainability page to watch it.
The project also gave us a new cycle parking facility to encourage visitors to travel by bike. When popular demand outweighed capacity we sought an Active Travel Grant from Transport for Greater Manchester. With the grant, we expanded facilities with additional Sheffield stands, installed a public bike repair stand and pump, purchased a shared folding bike, locks and helmets for staff to use to and lockers to make cycling to Contact more convenient. You can see in the image how joyfully the additions made possible by our Active Travel Grant have been received! We encourage everyone to think about small-scale-high-impact projects they might be able to apply for in the future.
Our public and private funders make Contact's work possible and positively impact the lives of all the people with whom we work. Thank you for your generous support.