Sustainability
Did you know Contact is in the top 1% of the most environmentally friendly public buildings in the North West?
Being A Sustainable Organisation

We are working hard to ensure that Contact is leading the way as an environmentally-aware arts organisation.
We are one of the lead National Portfolio Organisations working with Arts Council England and Julie's Bicycle to provide leadership in sustainability across UK cultural organisations.
What are we doing to be sustainable?
None of our waste goes to landfills. We also check weekly energy use against programmes to identify the impacts of different activities, to find areas where we can reduce our carbon footprint even more.
Other ways in which we support sustainable energy:
We have invested in an all-electric van and charging station.
Contact established a Green Champions scheme to support staff engagement in environmental matters.
We have achieved a DEC rating of A for two years running.
Our electricity supply is one supplied entirely from renewable energy sources.
We have added environmental sustainability to the agenda for staff and board meetings.
We continue to create a communications strategy for the public awareness programme.
Our investment in e-tickets and digital payments has greatly reduced our paper consumption.
We use vegetable ink on FSC certified paper for all of our print, including our season brochure.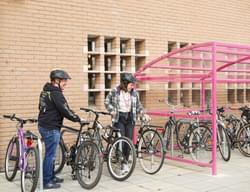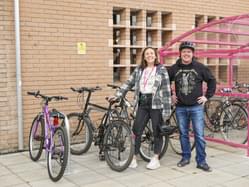 ---
Making Changes to Our Building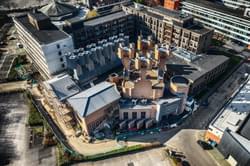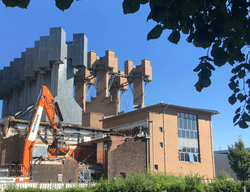 Contact was originally built in 1963. In 1999, Contact's famous chimneys were added to the building during a redevelopment project. These chimneys are actually an assisted natural ventilation system, which means Contact does not need air-conditioning and fresh air flows naturally through the building. The chimneys also made a significant reduction in energy use.
We have just come to the end of our new capital redevelopment project, Making Contact. One of the four main aims of the project to improve Contact's environmental sustainability even further. The architects and engineers rose to this challenge by designing new natural ventilation chimneys for the building extension – these are the grey 'turrets' behind the older brick ones. The existing ventilation/heating system is also now more efficient.
Our new Building Monitoring System captures data about how our building is 'thinking and breathing'. This data lets us monitor, optimise and fine-tune building's environmental performance to a far greater degree. Doing this will mean greater energy and efficiency savings and stronger sustainability in the long term.
---
Environmental Building Materials
As well as reducing our energy use, it was important to use sustainably-sourced building materials where possible.
Our new flooring is entirely carbon neutral and made of all-natural products. You can find out more about it here.
The new wooden panelling is mainly made from poplar. This tree captures 11 tonnes of CO2/year per hectare and grows four times faster than tropical species. The timber came from sustainable plantations and forests and is FSC and PEFC certified. These highest levels of certification in timber, and show that it complies with the highest social and environmental standards on the market.
We have also replaced lighting through the building with new energy-efficient LEDs. This includes some in performance spaces.
We have new water tanks with pressurisation unit and low-flow fittings to reduce water consumption.
We've installed a voltage optimisation unit reducing energy consumption
We have new condensing boilers.
To find out more about Contact's building, please contact marketing@contactmcr.com
---

Contact are proud to be members of Fit for the Future. Fit for the Future is a network of more than 80 organisations from the not-for-profit sector and beyond, which focuses on sustainability. As a collective with similar challenges, Fit for the Future members collaborate and innovate to find practical solutions to the impacts of climate-change. Becoming sustainable means that we can save time, money and resources for the things that really matter to us, and lower the impact we have on the environment. To find out more visit www.fftf.org.uk