MIF23 and Contact Present: 50 Hours of Freedom
News
27 Apr 2023
News Story
---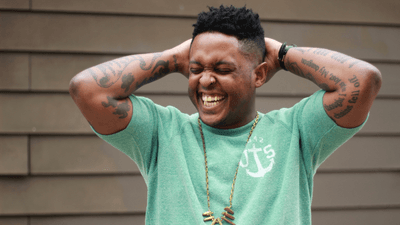 We're ecstatic to announce our upcoming partnership with Factory International for Manchester International Festival 2023.
In celebration of International Non-Binary People's Day on 14 July, Contact and Manchester International Festival are bringing three local, non-binary artists together to create a new piece of work.
This year, Contact celebrates its 50-year anniversary; so, the artists will have 50 hours to make their new piece. During a lock-in in the Contact building, our local non-binary trio will be given a brief from award-winning international artist, Danez Smith.
Danez is the author of three collections including Homie and Don't Call Us Dead. For their work, Danez won the Forward Prize for Best Collection, the Minnesota Book Award in Poetry, the Lambda Literary Award for Gay Poetry, the Kate Tufts Discovery Award, and have been a finalist for the NAACP Image Award in Poetry, the National Book Critic Circle Award, and the National Book Award. Danez's poetry and prose have been featured in Vanity Fair, The New York Times, The New Yorker, GQ, Best American Poetry and on the Late Show with Stephen Colbert.
This new work premieres on Friday 14 July on International Non-Binary People's Day. It's followed by a live reading from Danez and a post-show discussion with Artistic Director, Keisha Thompson, to spill all those juicy secrets from their time in the Contact castle!
---
---
GET INVOLVED
Keep your eyes peeled for a super special call out for non-binary artists to get involved in 50 Hours of Freedom!
Follow us at @ContactMCR across all social channels for updates.

---
ABOUT MANCHESTER INTERNATIONAL FESTIVAL
Manchester International Festival (MIF) is an artist-focused festival of original, new work and special events reflecting the spectrum of performing arts, visual arts and popular culture, staged every two in venues across Greater Manchester, UK – from theatres, galleries and concert halls to railway depots, churches and car parks. MIF works closely with venues, festivals and other cultural organisations globally, whose financial and creative input helps to make many of these projects possible and ensures that work made at MIF goes on to be seen around the world.
MIF's future home is Factory International, a global destination for arts music and culture opening in the heart of Manchester in 2023. The design of the landmark new cultural space is led by Ellen van Loon of the world-leading practice Office for Metropolitan Architecture (OMA). Its development is being led by Manchester City Council, with backing from HM Government and Arts Council England.
Factory International will commission, present and produce an ambitious year-round programme of original creative work, music and special events by leading artists from across the globe, as well as delivering the city-wide festival every other year. At 13,350 square metres, Factory International will be ultra-flexible, enabling large-scale artistic work of invention and ambition that isn't made anywhere else in the world – from major exhibitions and concerts, to intimate performances and immersive experiences – including over 80 gigs a year.
Attracting up to 850,000 visitors annually, Factory International will add £1.1 billion to the economy over a decade and create up to 1,500 direct and indirect jobs. Its pioneering programme of skills, training and engagement will benefit local people and the next generation of creative talent from across the city.
MIF23 takes place 29 June to 16 July 2023, opening with a major exhibition at Factory International, You, Me and the Balloons, celebrating three decades of Yayoi Kusama's spectacular inflatable sculptures, shown together for the first time.
To learn more about Manchester International Festival 2023, head here.
Image by Hieu Minh Nguyen
You might also like …
Sofie

Hagen:

Will

I

Ever

Have

Sex

Again?

Sofie Hagen is bringing her brand new stand-up show and her brand new book on tour.