14%: Q&A WITH KEISHA THOMPSON AND NATHAN POWELL
News
15 Sept 2023
News Story
We sat down with Keisha Thompson, writer of 14%, and the show's director Nathan Powell, to find out more about the work, its inspirations and what you, the audience, will experience.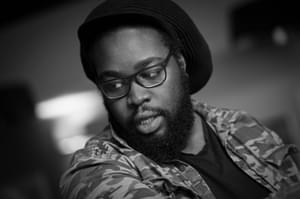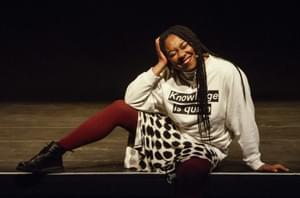 Keisha, 14% has landed at a particularly urgent time in sport, following the 2023 Women's World Cup. What inspired you to bring a football narrative to the stage?
Keisha Thompson (KT): I am very passionate about football, particularly as a Mancunian. I used to play it when I was little. There are so many political issues tied to it, so it felt like a natural thing for me to address as a topic. It didn't feel deliberate. I just wanted to tell a story about a woman who is passionate about football and gets her sense of belonging and Britishness from that culture. Everything followed from there.
And Keisha, what made you choose the story of Nadia and her unborn child, Baby? Why is their story important to you?
KT: I am intrigued by the way that having children makes you confront your sense of identity and what you want to pass on. I also love the idea that an unborn baby can feel like a god because they are filled with pure potential. All our hopes for the world get pinned onto them. They know their mothers from the inside. It's exposing. It's weird. It's scary. Perfect material to explore as a writer.
Nathan, what first drew you to directing 14%?
Nathan Powell (NP): When I read 14% I was equal measures, excited, nervous, thrilled and scared to make this show, and that let me know I had to do it. Keisha's writing is incredible, and the set-up and concept of the show is so exciting to me as a director. To be able to work in different mediums with so many great artists is a true pleasure.
14% is set to be a multi-sensory piece; Nathan, what experience are you hoping to give audiences with the show? Is there a specific message you want to convey?
NP: I just hope that it pulls people together to have conversations that they maybe wouldn't have felt confident or comfortable to have before, With their friends, with strangers and most importantly with themselves. I hope people have an amazing time being immersed in the world we create, I hope they laugh, I hope they interrogate, and I hope they chant loudly with strangers!
Keisha, the nexus at which theatre and football fans meet is an interesting space. What do you hope audiences will take away from 14%?
KT: I don't like to be prescriptive. I like to entertain and provoke. But I'm up for hearing what they get from it. Every time I've done R&D with this piece, it has been a delight to hear people's interpretations and takeaways. No point spoiling that with what I think. It's not important.
Sound design is particularly important in the show; Nathan, how would you describe collaborating with Wekha and the brilliant cast of voice artists?
NP: It's been a dream. Before getting into the rehearsal room we have already built such wonderful worlds for people to experience. We've worked with an incredible group of performers to voice some characters and we're creating rich and detailed spaces through Werkhas sound. And still to come is a host of technical magicians who will come together to bring this piece to life in October.
Nathan, which directors do you consider as influences, and are any of these influences present in 14%?
NP: Keisha of course, and of course her influence here is immense, not just in the writing but in the way we hope to honour the text. I'm really inspired by theatre pieces that feel like a significant event, an active experience which 14% definitely is and an artist that inspires me in this way is Matthew Xia who called Manchester home for a while.
And finally, Keisha, what's next in the pipeline for 14%?
KT: Curtain raiser for the UEFA 2025 in Switzerland!

Delve into the world of 14%...
14%

–

Step aboard a journey into British identity. How do we find belonging? Football shirts? Baked bean sandwiches? This tilting play will be a kick to the senses. Funny, frank and fragrant. Set against the frenzy of the Lionesses' success.…

Contact Presents